Hi, everyone! Are you getting more and more excited for Blend Retreat as the event draws closer? We definitely are! We have a super fun post for you all today. As you know, Blend Retreat focuses on food, fitness, fellowship, and fun. Our spotlight sponsor today is actually bringing ALL four elements to Blend Retreat with their amazing sponsorship.
General Mills has signed on as our official Trail Run sponsor. Blend Retreat veterans know we have never had a trail run before.. but with the event being located right in the beautiful Rockies.. we figured it was kind of a no brainer!
We had the chance to get together with Tina Haupert of Carrots'N'Cake, General Mills' ambassador, and chat with her a little bit about General Mills, her involvement in Blend Retreat, and what is in store for us in May.
Blend Retreat: Hi, Tina! Thanks for taking the time to hang out with us today. To start things off, can you tell us why you are working with General Mills?
Tina Haupert: General Mills invited me to visit their corporate headquarters a few months ago. As a part of the visit, they encouraged me and my blogging friends to ask questions and share opinions about what we wanted to see (or not see!) in their  Big G cereals. I was excited to hear what they are looking at for the future, and I'm happy to help the cereal team your thoughts/opinions at BLEND.
BR: That's great! General Mills sounds like a really cool company to be involved with. Can you tell us what the trail run sponsorship will be like?
TH: I am working with Big G cereals to put on the Trail Run + Cereal Trail Mix break on opening day in partnership with Heidi Kumm at Run.Around.Roo, who will expertly lead the train run. Back at the Cereal Trail Mix station, we'll have surveys for you to fill out so you can share back with General Mills about what's important to you when it comes to choosing cereal.
BR: A trail mix bar sounds so cool! It goes hand in hand with a trail run. Why is cereal a good option for fueling our fitness?
TH: Having a snack, like cereal, right before a workout is a great way to keep your energy levels up without weighing you down.
BR: That makes a lot of sense! We can't wait to throw our own custom trail mixes together using all the yummy General Mills cereals. What is the main goal General Mills has in sponsoring this event?
TH: Their main goal is to gather totally honest feedback from attendees about their cereals. General Mills is all ears when it comes to what we have to say—as both bloggers and consumers—and they're open to all kinds of ideas, suggestions, and questions, so don't hold back and be sure to share what you're really thinking! General Mills plans to use our feedback to develop and improve their products in the future, so what we say is really important to them.
BR: We LOVE that they are so open to feedback from consumers! It's not every day that you see a company so concerned about this. It's going to be fun to give our honest opinions and know that it won't fall upon deaf ears. Super cool.
Is there anything else you want to tell us regarding the trail run, trail mix bar, or General Mills in general? (haha)
TH: I'm really looking forward to the trail run and trail mix bar—fitness and foods are some of my favorite things in life! But, seriously, I'm excited that General Mills is part of this event. They're a wonderful company that cares so much about their products and consumers. They are always trying to improve, and I love that they value our feedback so much, especially since not all big brands are like this!
Thanks for chatting with us today, Tina!
General Mills has already shown us that cereal isn't just for eating in a bowl with milk. Today they are sharing a delicious recipe for an Ancient Grains Trail Mix using their new Cheerios + Ancient Grains cereal, which was created by Registered Dietitian Jessica Cording of Keeping it Real Food. So even if you can't make it to Blend Retreat, you can make this yummy mix at home and pack it with you on your next adventure!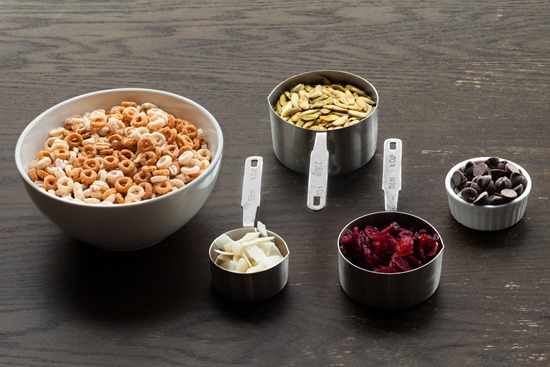 Ingredients:
• 2 cups Cheerios™ + Ancient Grains
• 1 cup pumpkin seeds
• ½ cup dried cranberries
• ¼ cup roasted coconut chips
• ¼ cup dark chocolate chips
Directions:
Combine all ingredients in a large bowl. Mix well.
Enjoy sprinkled on yogurt, as a garnish for a smoothie, or by the handful when you're on the go!
Makes 8 1/2-cup servings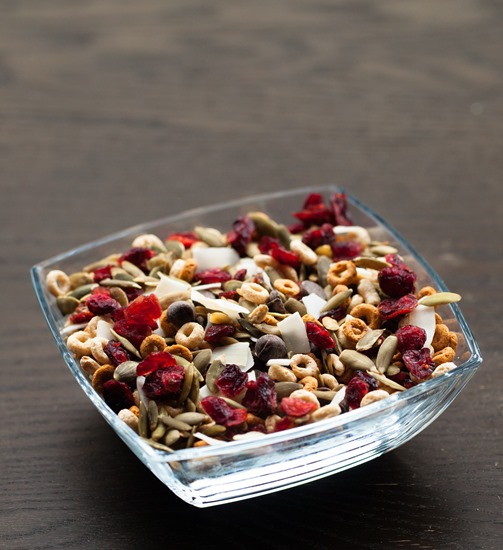 GIVEAWAY TIME!!
General Mills is offering an awesome prize pack! One winner will receive a Cheerios T-shirt & water bottle, a Hello Cereal Lovers cereal bowl and 2 boxes of Cheerios + Ancient Grains.
To enter, simply leave a comment on this post telling us what YOU look for in a cereal.
Thanks again to Tina and to the General Mills team for their involvement in Blend Retreat! To get in touch with them and find out more about their awesome products, you can visit them at http://www.generalmills.com/en/Brands/Cereals  or @generalmills on Twitter and Instagram.