Everyone knows there are two things that go into a cocktail party to make it great: food and drinks! Okay, okay, the guests may have a little something to do with the success of the party, as well.. but we already know that Blend Retreat's cocktail party this year will have the most amazing guests! So how about we tell you what is in store for food and drinks? Sounds good.
What's better than having one cocktail sponsor? Having THREE! Yep, you heard that right. We have three amazing brands sponsoring the cocktail party this year. You can bet it's going to be an incredible time!
We want to take a moment today and spotlight each of the three sponsors. We are excited to share these brands with you and we know you will love them so much! We did a mini interview with each brand, and here is what they had to say.
Our first sponsor is 34 Degrees Crisps.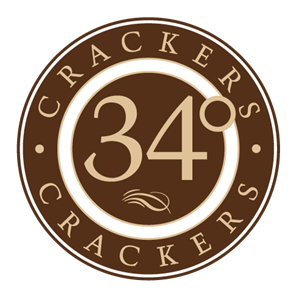 1. What is the mission statement and goal behind 34 Degrees?
34 Degrees was created by people with a profound love of food and is headquartered in Denver. Made from only a handful of natural ingredients, the light crisps were inspired by founder Craig Lieberman's travels and culinary experiences while attending graduate school in Australia. In 2003, Craig launched 34 Degrees and began importing specialty foods from overseas. Eventually, Craig's desire to bring his business and love of food closer to home resulted in focusing exclusively on the thin, tasty crackers. In 2007, our Denver-based company began manufacturing 34° Crisps nearby in Boulder County, Colorado. Today our team is comprised of ten dedicated employees that operate like a close-knit family.
With that, our mission is simply to make the very best crackers that are as good on their own as they are with a little something extra — especially when that something extra is cheese. Taking pride and pleasure in what we do today, knowing that our creativity and commitment to innovation will elevate our customers' enjoyment of 34 Degrees Crisps tomorrow.
Available in Natural, Sesame, Cracked Pepper, Rosemary, Whole Grain, Poppy Seed and Toasted Onion, these great-tasting and endlessly versatile crisps are sure to complement your favorite cheeses, spreads, fruits and meats without stealing the show. 
2. Which 34 Degrees Crisps are you excited to share with the attendees of Blend Retreat? 
We're excited to share our line of 34° Crisps paired with Sizzlefish and other scrumptious toppings, like cheeses and fruit,with the Blend Retreat attendees.
We're also thrilled to share our two new flavors, originally launched as Limited Editions , that will now be an official part of the 34 Degrees family – 34° Poppy Seed Crisps and 34° Toasted Onion Crisps.
3. How can we find out more about 34 Degrees?
You can check out the website for product information and amazing recipes! You can also visit 34 Degrees on their social media channels:
To contact someone directly, reach out to Jen Swift, Marketing Manager, Jswift@34-degrees.com, cell: 914-523-0386.
Our next sponsor, SizzleFish, is returning again after loving the retreat last year.
1. What is the mission statement and goal behind SizzleFish?
Our goal is to deliver super-quality seafood directly to your door, so that you can quickly and easily enjoy satisfying, healthy meals. The idea for SizzleFish came on a training run. Maybe you've noticed how thoughts seem to speed up during exercise, and sometimes ideas join together in new ways. After several miles contemplating our business selling healthy, top-quality fish, and then switching gears to think about triathlon training, it dawned on me: Our fish is the ultimate training food.
The idea made sense. For nearly 30 years we have supplied fish and seafood to the top natural and premium grocery companies in the US. We would use our years of experience sourcing, preparing, and packaging the best seafood, and focus those skills on delivering real performance and health benefits to people. Give them pure, first-quality fish they can trust – delivered to their door!
Thus SizzleFish was born. Our mission is simple: We want you to perform better. We want you to enjoy both the athletic performance and health benefits of fish, in the most consistently-delicious form that you've ever experienced. You can trust us to supply you with pure untreated fish portions, with tools and tips for quick easy preparation, and with honest information about the benefits you are receiving from SizzleFish products.
2. Which SizzleFish products are you excited to share with the attendees of Blend Retreat?
We are excited to share two different appetizers with the Blend Retreat attendees.
One will be a SizzleFish Salmon Canapé which includes tarami & brown sugar marinated salmon, wasabi cream, radish sprout, and a 34 Degrees Crisp.
The other will be the gluten-free soy/brown sugar BBQ Cedar Planked Salmon that was so popular last year!
3. How can we find out more about SizzleFish?
You can visit our website for products and recipes. We also are active on social media! Visit us at the following links:
Now that you know what awesome FOOD brands will be at the cocktail hour, let's talk about DRINKS!
WANU is sponsoring the drink portion of the cocktail party.
1. What is the mission statement and goal behind WANU?
We strive to be the leading nutrient infused water in the United States beverage market by offering consumers a truly unique and healthy product. Today's market is saturated with sugary sodas and beverages, so our goal is to provide consumers with a beverage option that is actually functional with real nutritional benefits,  great taste, and zero compromises.
2. Which WANU products are you excited to share with the attendees of Blend Retreat?
After a busy winter rebranding, we are elated to finally unveil WANU. Derived from the combination of WAter + NUtrition, WANU offers refreshing fruit flavors, 12 vitamins and nutrients, antioxidants, and 6 grams of fiber. Low calorie with no sugar or artificial sweeteners, WANU's clean hydration celebrates healthy living in the convenience of every bottle.
At Blend Retreat, we're jazzing things up and trying a fresh take on cocktails; we'll be using WANU as a healthier alternative to some of the mixers on the market…because let's face it, we're allowed to let loose and indulge every once in a while!
3. How can we find out more about WANU?
For more information about WANU, please visit www.WANUwater.com or email us at info@WANUwater.com.
We're also active on Twitter, Instagram, Facebook, and Pinterest.
@WANUlife
#DrinkWANU
Thanks so much to all three sponsors for taking the time to share more about yourselves today!
Now that you know more about these three awesome brands, we know you are even more excited to get to Blend and enjoy their offerings!  The cocktail party will be Friday night.. see you there!