Hi, Blends!!
Make sure you have entered to  win the Onnit Giveaway: TWO $140 prize packs! Check it out.
So, we have great news! We are giving away FOUR free tickets PLUS lodging to the retreat! You can snag one entry on this post and then head over to any of our personal blogs to enter three more giveaways:
This giveaway is a $300 value. The winner's admission ticket to the retreat AND two nights of lodging at the Hyatt Escala Lodge will be covered! All you have to do is get to Utah on May 17-19 to attend.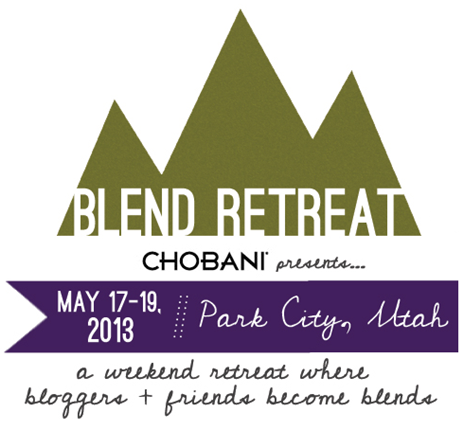 Let me give you a rundown of what to expect at Blend Retreat. There's so much awesomeness in store!
blend retreat. park city, UT. may 17-19, 2013.
friday, may 17.
12-5: registration
3-4: snack break by attune foods & justin's nut butter
6-7:30: cocktail party by silk featuring silkology blended beverages
7:30-10: four-course gourmet dinner
saturday, may 18.
7-8:15: boot camp workout by GPP fitness
8:30-10: breakfast by the laughing cow & muesli fusion
10:30: group hike by PROBAR
2-4: snack break by onnit labs with miss united states
dinner in park city at restaurant of choice
sunday, may 19.
7-8:15: boot camp workout
8:30-10: breakfast by chobani
10:30-12: closing ceremony and raffle
by blue diamond
the goodies.
*chobani gym bag
*blend retreat T-shirt
*living proof fit gear workout tank
*entry to closing raffle with 60+ big ticket items
SWAG from these sponsors:
Chobani
Silk
Muesli Fusion
Blue Diamond
Onnit
GPP Fitness
Vega
Larabar
fitmixer
PROBAR
The Laughing Cow
Attune Foods
P.S. I Adore You
Peach Treats
Beanilla Vanilla Beans
Simply 7 Snacks
All Pro Science
NuNaturals
Justins Nut Butter
The Good Bean
Love Grown
Swanson
Handful Bra
Peas and Thank You
Healthy Bites
GoodBelly
BAMR Bands
Plant Fusion
NatureMade yoga mats
Bob's Red Mill
NuNaturals
Traditional Medicinals
popchips
Detour Bar
Recharge Bar
Saffron Road
Kevita
The Simply Bar
Wildtree
Mussleman's
some details you may need to know before entering:
things officially start friday at 3 PM (registration opens at noon) and they end sunday at noon, but park city has a lot to do if you want to extend your trip.
if you are not local, you'll want to fly into SLC international airport.
transportation to and from the airport can be shared with other attendees. it's about 30 miles to park city from the airport and takes a bit less than a half hour to get there. if you win, you will be added to the blend retreat facebook group so you can coordinate a shared ride to the retreat from the airport. prices for a shared ride start around $20.
the lodging is for a shared suite. the suites have full kitchens, living rooms, and bathrooms. you will have your own bed, but you will share a bedroom with another attendee and a suite with other attendees (there are two, three, and four bedroom suites so the number of attendees in each suite varies.)
this is like summer camp! if you don't know anyone, don't be shy. everyone will be very kind and welcoming. it's a great chance to make new friends!
you do not have to be a blogger to come. anyone is welcome.
To enter, simply leave a comment on this post! Due to the timing of the event, a winner will be notified THIS THURSDAY so travel arrangements can be made. Good luck!