Hey there everyone! It's Wednesday, which means it is time for another special sponsor spotlight and giveaway.
Get excited.
Wait, you probably already ARE excited, since BLEND Retreat is just over two weeks away! Oh my gosh, can you even believe it? It has snuck up on us quick!!
One of our amazing sponsors is fitmixer, a company geared toward focusing on a healthy lifestyle.
fitmixer offers several different products ranging from meal replacement shakes to workout supplements. I will let them tell you all about their products AND what they are all about in the interview below!
Q: How long has fitmixer been around? Can you tell us about how the company got started?
A: fitmixer®, and its parent company Feel Fit Enterprises®, have been around since 2008, but our products have only been available to the public for about one year.
The company was born out of the idea that there should be an affordable line of nutritional products that helped people accomplish their fitness goals, and that all people deserved to have an opportunity to feel fit. Most BCAA supplements and protein products on the market were priced for only the extreme users. We wanted to provide something for ordinary people like us. That's why Feel Fit Enteprises® created the fitmixer® brand.
Q: How did you guys come up with the name "fitmixer"?
A: The brand name fitmixer® came from the parent company Feel Fit Enterprises®. It seemed like a logical name for our line of mixable powders that were designed to help people feel and get fit.
Q: What products does fitmixer offer?
A: We offer fitmixer® amino® in fruit punch and grape, fitmixer® slim® in chocolate and vanilla, fitmixer® protein® in chocolate and vanilla, and fitmixer® retain® in chocolate and vanilla.
Q: Can you tell us a little bit about each item? What is the benefit of each product?
A: amino® provides branch chain amino acids and improved blood flow, which helps provide energy and awareness while promoting faster muscle recovery.
slim® works as a low calorie, high protein meal or snack replacement for people looking to cut back on calories and control their appetites.
protein® is a low cost source of high protein levels. Most people don't have the time or money to fill their days eating fish, chicken and steaks. fitmixer® protein® is a great way to quickly supplement protein intake at a low cost.
retain® provides high calories and protein to help people who have trouble maintaining muscle mass and bone density.
Q: What are your products sweetened with? Why is that better than regular sugar?
A: Several of our fitmixer® products contain isomaltulose, a naturally occurring sugar found in honey and sugar cane. Isomaltulose, with its low glycemic index, is digested more slowly than regular table sugar, giving you more energy for longer and a low glycemic response. One of the really unique things about isomaltulose is that it actually encourages the body to use fat as an energy source.
Q: What sets fitmixer apart from other brands?
A: We work directly with sports nutrition labs to find the newest and most innovative technologies. That's why Tri-Flow®, a product of Genysis Nutritional Labs, really caught our eye. Tri-Flow® is a unique blend that works to improve circulation, leading to better performance during workouts, faster metabolism, and speedy recovery. Since these are all necessary to promote weight loss, build muscle, and a feeling of general fitness, we decided to put it in the entire fitmixer® line.
Q: Where can we buy fitmixer?
A: You can find fitmixer® online at fitmixer.com.
Q: Word on the street is you guys are spearheading a 12 week boot camp! Can you tell us a little more about that?
A: This is our second installment of Boot Camp. The first was essentially a study to see if our slim® and amino® products could actually help people lose weight and reshape their bodies. We did the study in conjunction with The University of Utah, and the results proved the products – combined with basic nutrition – could help people achieve their fitness goals. Our participants lost an average of 15 lbs. during the 12-week study.
Our second installment will be a ramped-up version of the first, minus the U of U involvement. The 12-week program will include 6 lb. bags of our protein® and slim® products, one bottle each of our grape and fruit punch amino® products, a Boot Camp blender bottle, nutrition plans from our registered dietician, weekly support calls, and more for each participant. The best part is that participants can complete the program from the comfort of their own homes because our Boot Camp will be hosted on the Internet. More information on the Boot Camp can be found at http://slimfitmixer.com/sign-up/!
Q: Is there anything else you'd like us to know about fitmixer?
A: We're passionate about health and providing affordable avenues to help people create and maintain healthy lifestyles. We're also extremely grateful to meals & moves for hosting this incredible Q&A. We hope we've answered everyone's questions. If not, people can visit fitmixer.com to find out more about our company and products. Thanks again!
No, fitmixer, thank YOU for being a part of BLEND! We are thrilled to have you on board! Make sure you all look for their goodies in your swag bags and introduce yourself to their Registered Dietician, Candice, at the retreat.
Not to worry if you can't make it to the retreat.. fitmixer has generously offered to give one reader a huge prize pack of fitmixer goods!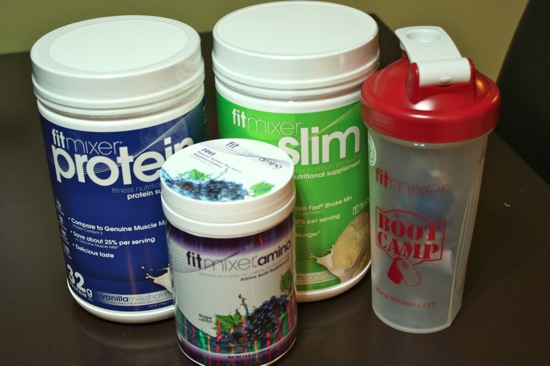 The winner will receive a bottle of protein, a bottle of slim, a bottle of amino, and a shaker bottle!
To enter, leave a comment below telling us one thing you have done this week to maintain a healthy lifestyle

For an additional entry, follow @fitmixer on Twitter and tweet "@blendretreat is giving away a @fitmixer prize pack! http://blendretreat.com/?p=339" and leave a comment stating you did.
For another entry, post a note on fitmixer's Facebook wall here! Tell them BLEND sent you.
The random winner will be announced on Monday, April 23rd.
Thanks again to fitmixer! See you in a couple weeks!
xo. Lindsay, Katie, Janetha